2019 Lamborghini Urus pricing & specs
| | |
| --- | --- |
| Top Speed | 190 mph; 306 km/h |
| Acceleration (0-100 km/h) | 3.6 seconds |
| Engine Volume | 4.0 liters |
| Engine Power | 641 hp |
| Maximum torque | 850 Nm |
| Drivetrain | FWD |
| Transmission | 8-speed Automatic |
| Fuel Type | Gasoline |
| Fuel Efficiency (combined) | 12,7 L/100km |
| Body Type | SUV |
| Num. of Doors | 5 |
| Num. of Seats | 5 |
From $200,000
Based on Manufacturer's Suggested Retail Price (MSRP)
Model Years
2019 - 2019
$200,000 - $200,000
* Approximate prices in U.S. dollars for cars sold on the Internet as of January, 2018 are informational and are not a public offer.
Overview of the new crossover Lamborghini Urus 2019: appearance, interior, specifications, car parameters, price and configuration. At the end of the article presented photo and video review of the crossover.
The new Lamborghini Urus crossover is presented publicly on December 4, 2017, 5 years after the debut of the prototype Lamborghini Urus Concept in the spring of 2012 at the auto show in Beijing. According to motorists, the serial version of the crossover has surpassed the expected parameters and characteristics. What the new Lamborghini Urus 2019 crossover has surprised with we will consider in this article. So, let's start.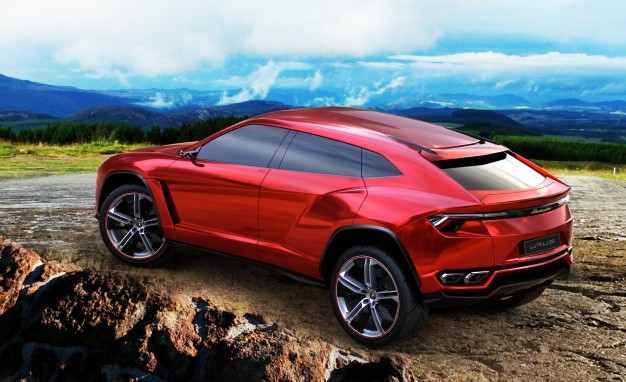 Production of the novelty will begin at the very beginning of 2018 in the city of Sant-Agata-Bolognese, native to the company Lamborghini. At the same time the most part of knots, units and accessories for the new crossover Urus will be delivered to Italy from Slovakia from the Volkswagen Bratislava Plant where the platform makers of the Volkswagen Touareg and Audi Q7 are manufactured, as well as the car kits for the two other brothers - Porsche Cayenne and Bentley Bentayga. Among its relatives, Urus became the largest, reaching a length of 5112 mm, a width of 2016 mm, a height of 1638 mm. The wheelbase of the model exceeded three meters, making 3003 mm. The ground clearance in connection with the installation of adaptive air suspension varies from 158 to 248 mm.
In front, under the hood 2019 Lamborghini Urus prescribed 4.0-litre V8 petrol twin-turbo engine (650 HP, 850 Nm), which mounted with 8 automatic transmission of the ZF company. The powerful motor, the modern gearbox and an all-wheel drive allocate the Italian crossover with phenomenal dynamic and high-speed characteristics. The acceleration from 0 to 100 km/h is 3.6 seconds, from 0 to 200 km in 12.8 sec., and maximum speed 305 km/h. According to the manufacturer the fuel consumption in the combined driving mode will be not less than 12.7 liters.
The price policy for each modification of 2019 Lamborghini Urus has not yet been named, but it is known that the starting price of the Lamborghini Urus 2019 starts at 171,429 euros. For North America, the starting price for Lamborghini Urus 2019 starts at $ 200,000, and for China from 3,130,000 yuan.